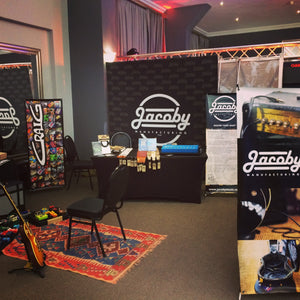 Review: SA Guitar & Music Expo 2017
Where to begin?
This last weekend marked the third SA Guitar & Music Expo held at The Wanderers Club, Illovo in Joburg. A huge thanks to Manie Grove and his stellar efforts in bringing the captains of industry under one roof, Jacoby Music were lucky enough to be able to join this auspicious occasion.
As you would imagine, there were plenty of music brands and retailers all representing their stands across three floors. 
It was great to meet up with the likes of TOMS, Marshall Music, Turnkey and a few others who have been around a long time. It's also always great to bump into Ronnie and Jos of Allbang & Strumit - those guys keep a mean selection of vintage and collector guitars as well as drums.
On the local builder side, I had the opportunity of meeting Don Gabriel of Don Meister guitars. Such beautiful luthiery using specially chosen African woods with the combination of some high end hardware to boot.
Similarly, Grant and Heath of Fouche Custom Guitars were also thoroughly in the mix with their selection of some classics that were a pleasure to try out.
JP Le Roux was at it with his impressive amp stack (always a fan). As can be expected, some beautiful tones were consistently flavouring the airwaves of the main downstairs hall. From an innovation standpoint, you've got to check out his new amp-in-a-pedal combo. That's another article altogether, but look out for it! 
And if you're wondering about the other man on the scene, I've got to express how lucky we were to share what I called "party corner" with Benjamin and Hayley Craig of Craig Amps. My goodness, there was a smorgasbord of awesome sounds projecting from our space. Everything from 5-6 different types of drive tones to some classic fuzz, one of which emulated 80's TV games.
Roger Butt had an impressive display of analogue preamps and compressors under his brand JollyRoger. Yes, digital is big these days, but to have these beautifully rack mounted beauties on show just made you forget that there was anything else but proper, old school hardware (some modeled on a few legendary names which I can't say, but you'll know...)
Also in our corner was Brandon Leite of MAP Pro Audio who had his range of affordable studio and DJ cases on display. A great idea for all those aspiring DJ's who need a trusty and neat setup for their gear.
Leading up to this event, I had mentioned that we had a lot of new exciting products to unveil at this year's SA Guitar & Music Expo. Apart from our gold plated, oxygen free copper guitar cables, here's what we had to share:
Our new range of guitar straps, all manufactured here in Durban, are broken into two categories; Studio Series and Stage Series.
Our Studio series are nylon straps with genuine leather ends, available in black or white.
Our Stage Series grabbed a lot of attention in the form of both our all tan leather and Nguni hide leather straps.
In keeping with locally crafted guitar accessories, our friends, House of Kallie from Cape Town, have delivered some seriously beautiful craftsmanship with our new offering of Olive Wood Guitar Picks.
These works of art are for the tone enthusiast who's willing to break the mold and try something new tonally. The picks have a great feel, introduce some slightly new sounds on the strings (particularly acoustic) and are amazing to gaze upon, even when just laying in their shoe polish pick case.
Moving on to the hardware side of things, we also presented two new prototypes which will be available soon.
The first is our perforated mild steel pedalboard which delivers a sturdy platform for your stomping delight. 
The multiple holes on the board allow for pedal mounting either through old school cable ties, or our new pedal plate system which will allow your pedals to be fastened via wingnuts. Very straight forward, but more to be revealed soon...
We have also taken into account easy gig setup by giving you the optional extras of an IEC power socket (fused) and a 4 input/output patchbox, both of which are positioned on the right hand side for neater cabling.
And now, our grand finale: The DexWitch Loop Switcher & Power Supply.
This bad boy received a lot of attention as one of the first pedal loop switchers to integrate a fully analogue loop switcher and - wait for it -
power supply.
DexWitch (from Deca and Switch) allows the user to control 10 different pedals (TRS available for all 10) all from one foot controller. A preset mode is also available in the system. 
Each of the 10 loops also offers a 9VDC Boss-style power out (1000mA/1A each) which we can all agree is plenty plenty. We are currently in production with our electronic components and I will be releasing a full demo video as soon as we're good to go!
Phew! Well that's a lot of info splurge for one post. Nevertheless, it was an insane weekend and something that was an absolute pleasure and privilege to be a part of. Thank you to all who continue to support local muso's, their craft and the South African Music Industry in general. I look forward to revisiting next year.
Sincerely,
Miles
---