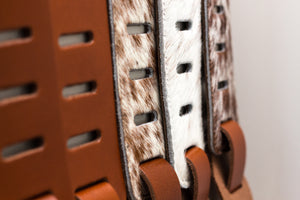 Strapped for cash?
Some see them as an artistic extension of your guitar and some just need a sling to hold your instrument in place. Whether you're a strap collector or just plain tired of balancing your guitar on your knee, straps are a crucial part of your setup.
There are a lot of options out there; from the flimsy, pleather/nylon combos that come as a freebie in a starter pack, to the mass produced classic rock band branded ones to the crème de la crème straps that a select few like bringing in from overseas. So many to choose from. So where does Jacoby fit in?
Well, we've decided to break it down into two categories:
The Studio Series:
These are our entry level nylon straps, available in black or white. Don't let "entry level" fool you - the quality is still sturdy as anything with locally woven nylon webbing and genuine leather ends to attach to your guitar. You may have seen similar ones in your local guitar store, but these generally aren't genuine leather. Again, who said entry level has to be shoddy?
Did I mention that these were 100% manufactured and assembled in Durban?
The Stage Series:
 OK, so you've played a few gigs, someone   discovered you and within a week you've   made the big time and are about embark on   your world tour ;)
 The Stage Series straps are our premium   range. Premium only for the reason that they   are full genuine leather straps - again, all sourced and made locally.
At the moment, we offer a full tan leather strap, which is fairly tough and rigid (ie: it's not a soft leather). This is the right strap for someone with a heavier guitar or someone who just likes the classic, beefy look of a legit leather strap.
We also have our famous Nguni hide leather strap. This one is a softer leather, light to the touch and is backed by a thin leather lining - a combo of which creates a natural padding within the strap. Its unique look and quality has gained a lot of attention online and at guitar shows.
So now I'm strapped, but what about the cash?
Let's cut to the chase, shall we?
Black Studio Series Nylon Strap - R150
White Studio Series Nylon Strap - R150
Tan Genuine Leather Stage Series Strap - R350
Nguni Hide Leather Stage Series Strap - R450
I have at times had people ask how a genuine leather strap can be so cheap, so remember this:
1. These are all made locally in Durban, South Africa.
2. Jacoby Manufacturing's mission is to make musical equipment more affordable and accessible to local SA musos so that you don't have to fork out for these heavily inflated overseas brands.
All of these are available at: http://www.jacobymusic.com/straps
Sincerely,
Miles
---