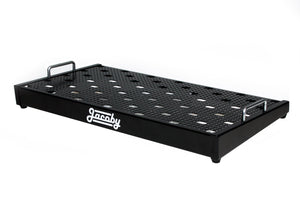 Step on it!
Finally, they're ready!
For those of you who have seen some of our pedalboard prototypes, we've been holding out in order to offer you the complete pedalboard package:
- Pedal Slabs (for mounting your pedals neatly on the board)
- Power Supply Bracket Set (for underside mounting)
Our boards are made from perforated mild steel and powder coated black ("any color so long as it is black"). The perforation allows you to attach your pedals by means of cable ties or our Pedal Slabs. The slightly larger oblong holes are for cable access so you can neatly tuck away unnecessary cable lengths.
Above is an idea of how many pedals you could squeeze on a board.
With clever cabling, you can get around 10 compact pedals plus one wah/expression/volume pedal.
Our Pedal Slabs are simply a steel plate which attach to your pedals using an adhesive tape. The other side has 2 male studs which slot perfectly through the holes of your pedal board and can be hand-fastened by means of thumbscrews (all provided). We have 3 sizes available depending on your pedal, plus a custom size ("The Chief") which is made to fit one of the industry standard pedals out there. If you check your thesaurus for "Chief" or enjoy Bruce Springsteen, you may be able to work out which brand this is. The reason we have this custom slab is due to the rubber grip on the underside that makes the adhesive tricky to stick to.
The IEC Adaptor Cord allows you to mount an easily accessible power point on the side panel of the board (either left or right side). The adaptor extends underneath the board by 40cm so that you can plug directly into your power supply. This way you can arrive on stage and simply keep those cables neat by just plugging into one side of your board. The adaptor carries a 2A fuse.
In keeping with easy access, the Patch Box offers the same neat system of just plugging in one side and having everything else pre-wired underneath your board. The patch boxes are 4 way TRS (stereo) inputs, but of course mono works fine. This at least gives you the option for stereo effects if you need them (also look out for our Y-Splitter Cables to help with splitting stereo signal).  
The intended use for the 4 inputs is as follows:
- Input (from instrument)
- Output (to amp)
- FX Send (from amp effects loop)
- FX Return (to amp effects loop)
Underneath the board is ideally where you want to be storing your power supply so as to keep that valuable pedal real estate open on top. To mount your power supply, we've devised an adjustable Power Bracket Set that lets you mount any brand of power supply underneath. Most brands do supply their own exclusive bracket specially designed for their power supply only, however, our one lets you mount whichever power supply you currently own or intend on getting.
As with our other mounting systems, the set of 2 power brackets comes with thumb screws for hand-tightening.
If you're thinking about getting a board, and you like the IEC Adaptor Cord and Patch Box options, we'll send you your board with the extra accessories already installed - you'll just need to tell us which side you would like your cable access (left or right).
Finally, we wouldn't expect you to walk around with everything all hanging out
(well at least most of you), so we've provided 2 options for keeping your gear safe.
We have both a hard, robust flight case or the lighter, nylon padded bag.
Ordering:
As with all our hardware, we work on month to month orders. On the product page, you will see a drop down menu where you can select which batch you would like to be part of. For example:
August (September Delivery) = Order by 31st August and you will receive your order by 30th September.
We're really excited to be bringing this product range to all our local South African musos and hopefully you all find this to be a way more accessible and affordable option. If there's something you don't see and think would be worthwhile adding to the kit, please let us know and we'll see what we can do.
Sincerely,
Miles Jacoby
---